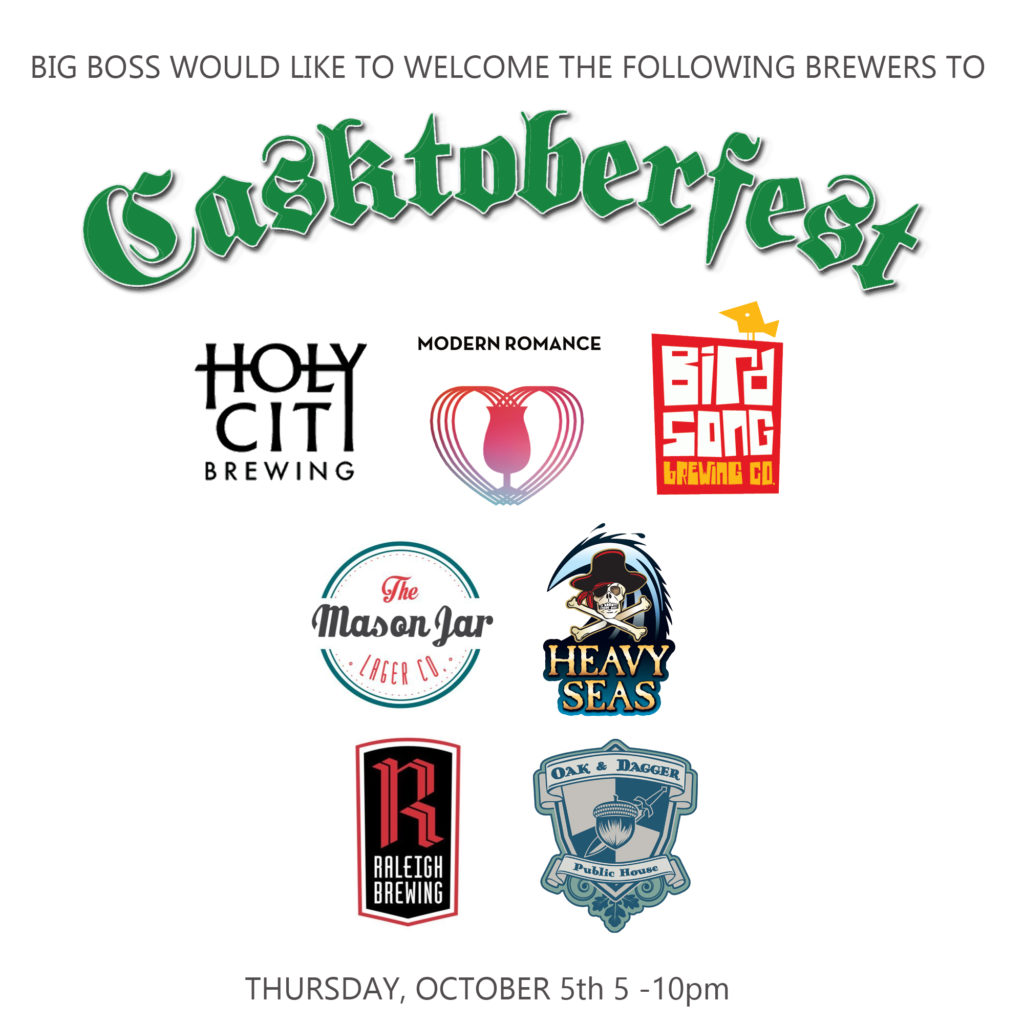 We are working hard to bring you the 7th annual Casktoberfest! A celebration of old world traditions with a Big Boss twist. We transform the brewery into a giant beer hall with North Carolina's largest selection of cask ale. Variations on our core beer line up plus traditional cask conditioned ales will be offered. Several guest beers will be announced as they are confirmed.
Big Boss Brewing receives proclamation for Casktoberfest 2017!
What you need to know –
We open the brewery doors at 5pm!
30+ one of a kind cask ales confirmed!
There are no tickets required to get in! This is a pay as you go event. Cash will make lines go quicker!
Yes! You may bring your Casktoberfest mug from year's past!
PARKING
Parking is tight here in the warehouse area of Raleigh. Making it worse that usual is a construction project at the corner of Laurelbrook and Hodges. That means you will not be able to enter this area from Capital Boulevard!
Please be mindful of our local businesses and not block their entrances.
Car-pooling is a great idea!
Dirndls & lederhosen is a festive way to celebrate!
2017 CASKS & STATION LINE UP (subject to re-arrangement!!!)
Station 1 – Main Bar (8 Casks)
• Harvest Time – Pumpkin Pie (Kilderkin)
• High Roller – Dry Hopped IPA
• Birdsong Higherground – IPA Dry Hopped with Mosaic, Comet and El Dorado
• Bad Penny – "Maple" Brown with Fenugreek
• Autumn – Moroccan-Style Amber with Ras El Hanout (Pin)
• Modern Romance Soft Focus – Hazy IPA
• Hell's Belle – Blonde with Pineapple, Ginger and Red Chili Peppers
• Holy City Space Dog – IPA with Green Tea
Station 2 – Upstairs Bar (4 Casks)
• Bad Penny – Dry Hopped Brown Ale
• High Roller – IPA with Mango and Habanero
• Big Boss Lager – Helles Dry Hopped with Organic Whole Leaf Zeus
• Raleigh Brewing Co Margarita Lager – Amber Lager with Triple Sec, Key Lime Juice and Salt
Station 3 – Brewhouse (5 Casks)
• Bad Penny – Brown Ale with Coconut
• Harvest Time – Pumpkin Ale with Cold-Brew Coffee and Lactose
• Angry Angel – Dry Hopped Kölsch
• High Roller – IPA with Ginger Root
• Devil's Bouquet – Double IPA with Pineapple
Station 4 – Beer Hall (8 Casks)
• Tavern Ale – Dry Hopped English/American
• Devil's Bouquet – Dry Hopped Double IPA
• Mason Jar Baltic Porter
• Harvest Time – Pumpkin Ale with Cardamom and Cacao Nibs
• Big Boss Lager – Helles with Tamarind Paste and Kaffir Lime Leaves
• Bad Penny – Mole Brown Ale with Cinnamon, Cacao Nibs, Orange Zest and Habanero
• Angry Angel – Kölsch with Guava
• Heavy Seas Powder Monkey – Pale Ale Dry Hopped with Fuggle, Golding and Oak Chips
Station 5 – Barrel Wall (5 Casks)
• Wild Berry Cabernet Barrel Aged Stout
• Angry Angel – Kölsch with Cold Brew Coffee
• Big Boss Lager – Helles with Sake
• Bad Penny – "Relaxing Times" Brown Ale with Suntory Whiskey-Soaked Hickory Chips
• Hell's Belle – Blonde Ale with Arabian Night Tea