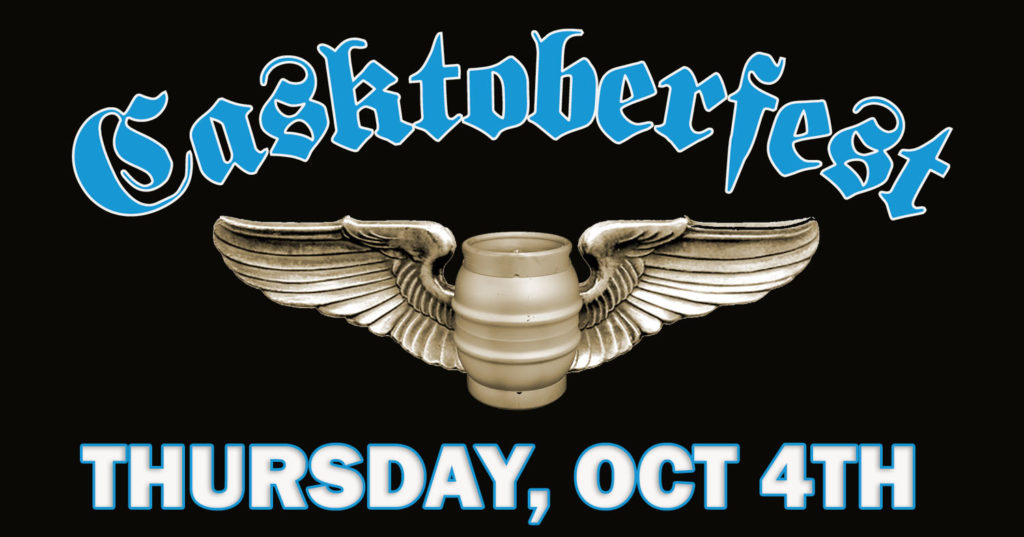 Casktoberfest 2018 will feature several one of kind beers created especially for this event in a festive beer hall style atmosphere! October 4th, happens to be National Taco day so we are excited to have tacos on the menu in addition to traditional bratwurst and pretzels! We have many guest brewers to be confirmed later this week!
What you need to know –
Our taproom opens at regular time. 3PM
The brewery beer garden doors at 5pm!
Beer hall style seating available!
Food menu from catering works featuring bratz, tacos and pretzels!
There are no tickets required to get in! This is a pay as you go event. Simply find a menu when you come in, find abeer you would like and order it!
Cash will make lines go quicker!
Yes! You may bring your Casktoberfest mug from year's past! Limited amount of mugs available at the bar.
Guest breweries include Durty Bull, Fullsteam and The Glass Jug from Durham, Crank Arm in Raleigh, Double Barley in Smithfield, Salty Turtle from Surf City and American cask ale evangelists Heavy Seas from Baltimore.
Big Boss variant casks available
COFFEE LAGER Sumatra & Honduran beans (kilderkin)
HARVEST TIME Pecan Pie variant
BAD PENNY bourbon oak
APPLE/ GINGER root hard cider (pin)
ANGRY ANGEL "Pickle Surprise" variant
RED SOUR Ale w Hibiscus (Collab w Salty Turtle)
BAD PENNY Mole spiced
HELLL'S BELLE schezwan peppercorns & ginger root
HARVEST TIME tropical coconut
ANGRY ANGEL apple pie edition
BAD PENNY dry hopped w comet
BOSS LAGER Ginger root variant
PROMETHEUS UNBOUND stout aged in oak
GOSE aged in cabernet sauvignon barrels
PARKING
Parking is tight here in the warehouse area of Raleigh. Making it worse that usual is a construction project at the corner of Laurelbrook and Atlantic. Please be mindful of our local businesses and not block their entrances. Car-pooling is a great idea!